The Hand Soap with Attitude™.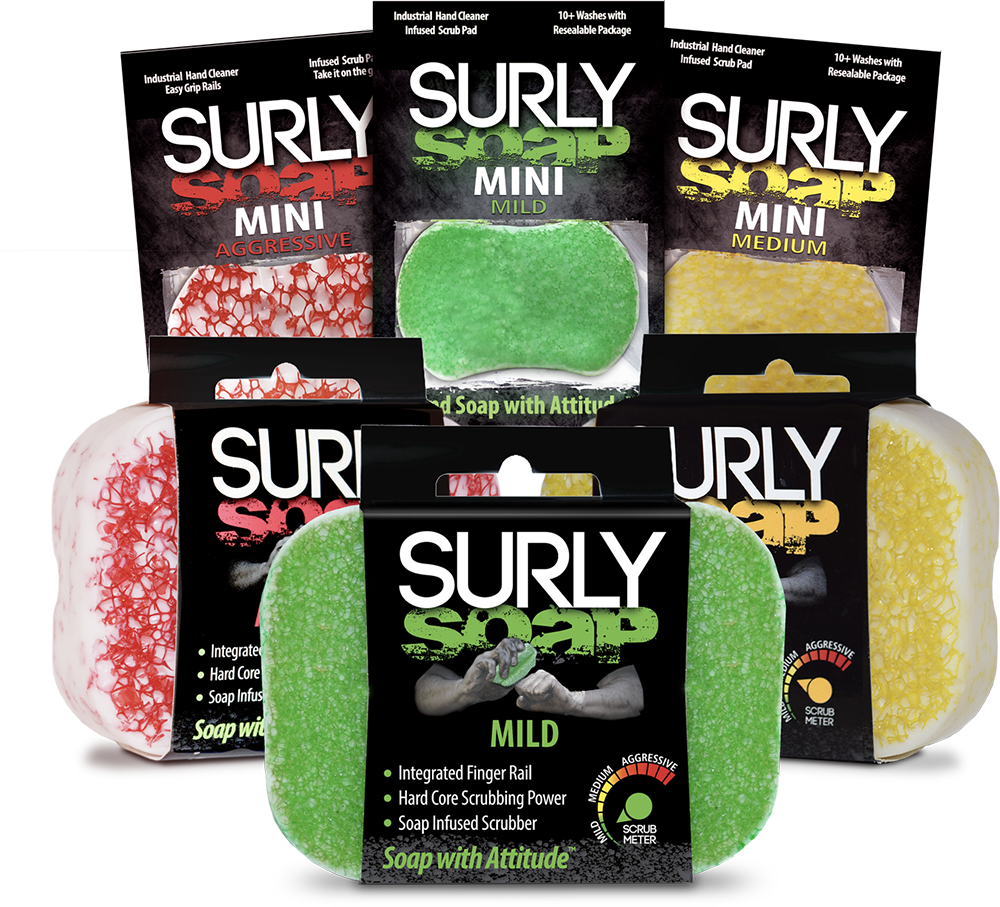 This product saves hands

Working hands??? My husband swears by this to clean his hard working, stained hands. He is a water treatment tech with a wonderful company and often works with hard-to-remove solvents, chemicals, glues,etc. He uses it before he leaves work and at home. His hands look so good. If you haven't tried SURLY Soap, you're missing an excellent product that does what it says. Try it. You'll be GLAD you did!
Good for gardeners and mechanics

My husband is a mechanic and my son is always playing in the dirt. This is perfect, the sponge in the mild green bar is rough enough to slough off dirt from under nails without it hurting. There's a neat groove in the soap for washing your fingers.
Best job I've used in 30 years

I have been a plumber for 30 years and have tried many different soaps this is the best soap I have come across for taking off all of the disgusting things I come across on a daily basis I will never use a different soap again.
Why Did This Soap Take So Long To Happen?

This is a pretty fantastic idea: take a scrubber, encase it with soap, and even leave a fingernail groove on the flip side. If you find yourself doing a lot of dirty work, this is going to be very effective. And let's face it: we're all stuck home, so there's a whole lot of DIY and gardening going on.
THE BEST!

Seriously, washing my hands with this aggressive bar is so awesome. When I work on my bike chain I get black greasy fingers and this cleans them off great. The scents are incredible! My hands feel so soft afterward. If you can't tell, I love this soap! Get one and see what I mean.
Worth it.

I actually love this stuff. After YEARS of working outdoors and constantly having dirty and embarrassing hands I bought this. A couple minutes worth of scrubbing' leaves me with hands that my girlfriend doesn't run away from and the grocery store clerk doesn't raise an eyebrow at. Mild scent, easy on the skin….I'll never go back to scrub brushes and harsh soap again. Thanks!
Wow! This stuff really works.

Embedding a scrubby pad inside a bar of soap. Simple and ingenious. The pad is partially exposed on one side. Lather up, reverse and go to town scrubbing away.
Man size bar of great hand soap

This soap is awsome being able to remove grease and paint from your hands. The bars last a long time and are gental on your hands. This is a man's soap, nothing wimpy about this large bar of soap with built in scrubber.
Perfect for an artist!

This is exactly what I needed to get paint and resin off my hands, highly recommend to all of my artists or anyone who gets things on their hands that's hard to get off. Works great!
I love this soap!

Hands down, this is the best soap I have ever used! I love the scent, but most of all, I love how well it works. It's great that there are different abrasive scrubbers. I used the medium soap to clean my sink, it worked great. My husband loves the aggressive bar, after working on the car, the finger rail is genius.